Bowers Beach "Big Thursday" on Sunday Festival is TODAY
10/16/2016 - 10:00 AM
Location: Bowers Beach Maritime Museum
Address: 3357 Main Street
Frederica, DE 19946

Bowers Beach "Big Thursday" on Sunday Festival
Events – Hosted by Bowers Beach Maritime Museum
5K walk/Run/Move – starts at 8:50 Lil Kids FunRun (free)
9:00 a.m. – Adults and Kids 5K Run/Walk (Registration required to participate)
10:30 a.m. – 5K Awards Ceremony
11:45  – Town of Bowers Historical Marker Dedication Ceremony! –  Walk on over to the center of town (flag pole) to join us in this awesome historical event.
Parade
---
Sea Glass Festival!   Holy pirates treasure, Batman, could this get any better?
Sea glass vendors will be showing off their treasures AND if that is not enough, the Delmarva Antique Bottle Club will be there helping to identify YOUR sea glass, old bottles, etc. that you bring.
---
Southern Delaware Jeep Club – Jeepers Creepers this is GREAT!
Stop by and see all the cool Jeeps.
Want more information? Go to the Bowers Beach Maritime Museum's Facebook page for the 5K run here.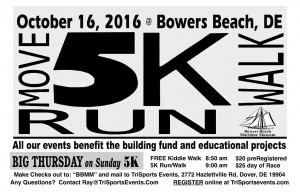 Save